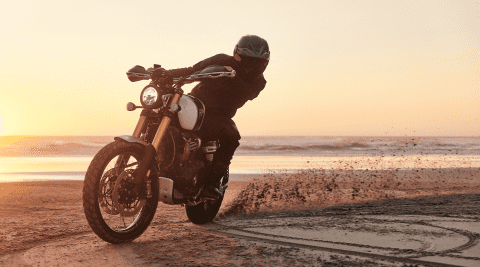 The sun is quickly falling on the coast of Florence, Oregon as Nick Apex and Ernie Vigil hit the beach for one last ride of the day. Ernie is taking full advantage of the off-road capabilities of his Scrambler 1200 XE, and Nick is intent on riding some surf.
The pair know the best way to make the most of their day at the beach is as team, so they partner up for an epic session of MotoWake before riding off into the sunset.


BEHIND THE SCENES
When you haven't strapped on a wakeboard in 15 years, you're losing daylight, battling extreme winds, and almost sink a second Scrambler in the Pacific, long time stunt riding duo, Nick Apex and Ernie Vigil still find a way to get the shot. Watch the pair reflect on what it took to make the concept of a MotoWake session come to life in this Behind the Scenes video.
"surprise surprise, it's kind of weird and hard to do flips being towed behind a motorcycle in the ocean." – Nick 'Apex'