NEW STEALTH EDITION MOTORCYCLES BREAK COVER AT MADISON SQUARE GARDEN
Triumph teamed up with the Knicks City Dancers for a high-torque halftime show for the home opener of the New York Knicks at Madison Square Garden. The nationally broadcast star-studded event in the heart of the Big Apple was the public debut of both the fully refreshed dance team and the just-announced all-new Stealth Edition motorcycles.
The Knicks City Dancers (KCD) are among the most respected in the industry and have always been innovative pioneers in sports entertainment. For the 2023-24 season the dance troupe continues their trailblazing spirit with a slimmed down squad. With only 9 total members making up the team, there will be a greater emphasis on the incredible skills and personality of each dancer. The new modern and premium approach for the team was influenced by esteemed Creative Director Fatima Robinson. Robinson's impressive credentials include numerous MTV VMA Awards, Choreographing multiple Super Bowl and Academy Award performance, named 100 Most Creative People in Entertainment, and now re-imagining the legendary Knicks City Dancers.


For the season opener, the KCD were determined to make a grand entrance when the when the 9 new members made their first appearance at the world's most storied arena. To best convey their new contemporary yet classic format was aboard motorcycles that were equally sleek and stylish. When the team learned Triumph were releasing two new modern classic models in the Knicks's iconic Blue and Orange color scheme, it was a match made in Manhattan.
As the lights dimmed for halftime, the pleasant roar of a Triumph parallel twin engine filled the stadium. Then the camera feeding the jumbotron pointed to center court focused on the instantly recognizable headlight of the Triumph and pulled back to reveal the incredible formation of the 9-member dance team surrounding a Phantom Orange Scrambler 900 Stealth Edition and two Phantom Blue T120 Stealth Edition motorcycles.
The music then kicked-in along with a captivating screen presentation and the performance began. The halftime show was a thrilling fusion of machine and movement… dance and design. The KCD showcased their incredible talents incorporating the motorcycles into the high-octane show. The showcasing of the new Triumph Stealth Edition Motorcycles at the Knicks' opening night resulted in a remarkable fusion of sports and speed.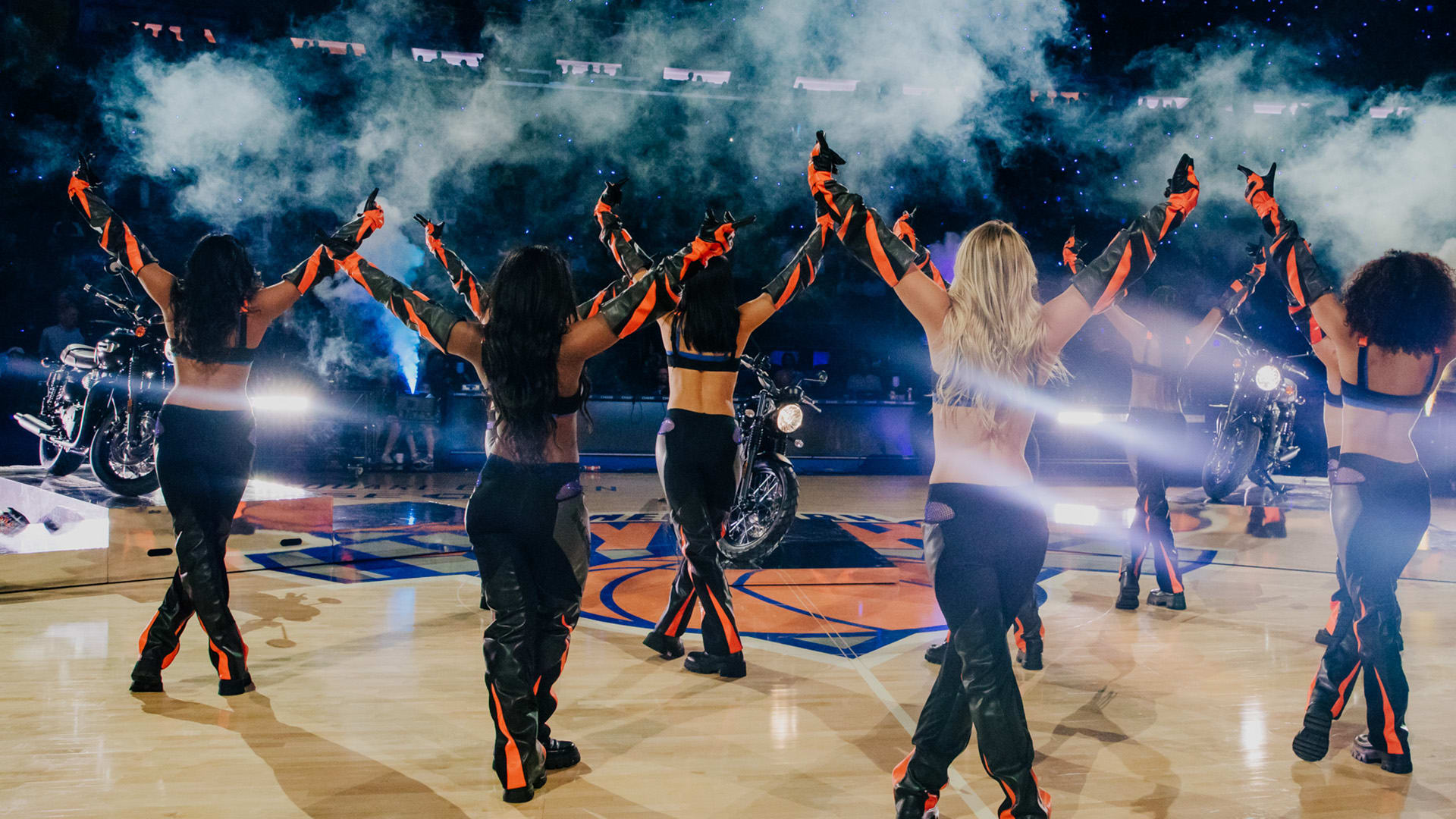 8 STUNNING STEALTH EDITIONS