SCRAMBLER 400 X ACCESSORIES
MAKE IT YOURS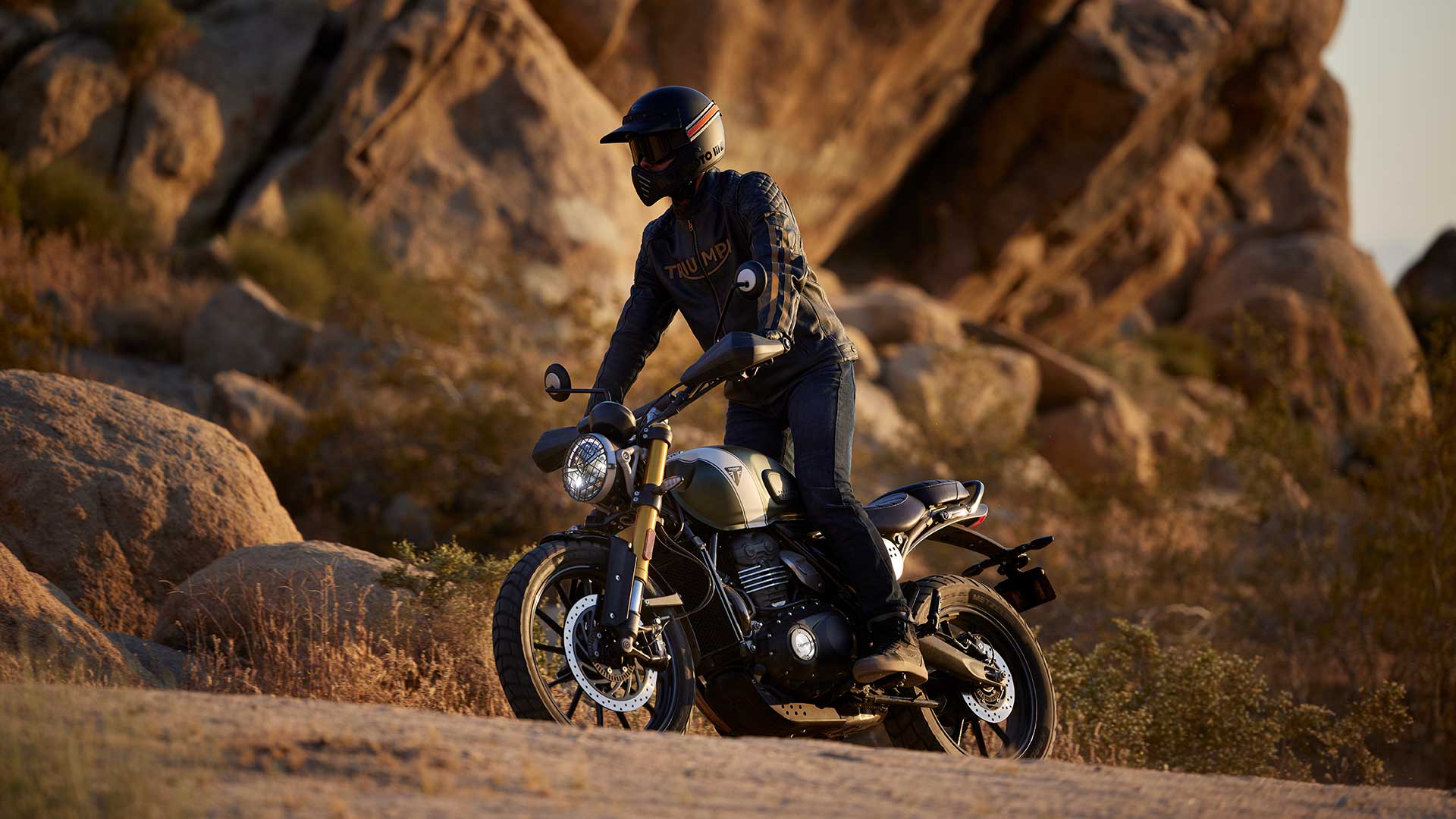 Fantastically well-equipped, the Scrambler 400 X has a class-beating specification and equipment list, and to make it yours, a choice of more than 25 genuine accessories can be configured and fitted. Designed by the same engineers that created the Scrambler 400 X, and with the same two-year unlimited mileage warranty, you can rest assured that each accessory will fit perfectly.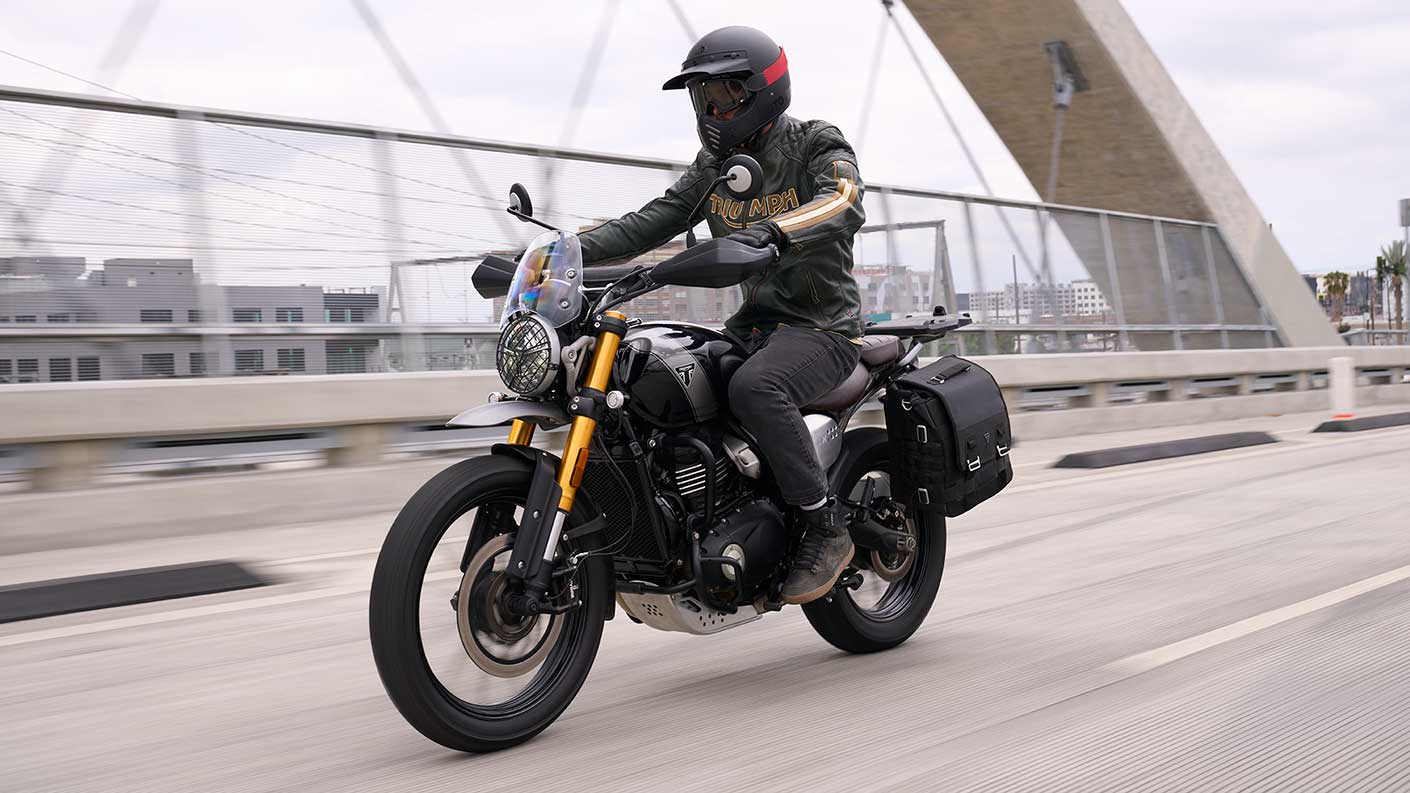 STYLE AND COMFORT
Enhance your Scrambler 400 X with direct replacement bullet style indicators. The satin black bodies and machined aluminum bezels add a touch of class for a subtle new look.
A tank pad offers style and protection to the signature sculpted tank. Rider and passenger comfort for longer rides and tough terrain can be improved with a genuine accessory comfort seat with a fresh look, adding more premium style to the Scrambler 400 X.
Plug and play heated grips can be connected easily to the existing wiring to keep your hands warm all year-round.
LED Bullet indicators
Tank pad
Comfort Seat
Heated Grips
LUGGAGE
A full range of luggage was designed specifically for the Scrambler 400 X to cope with every conceivable journey, from daily urban commutes to the most ambitious of adventures.
Matching perfectly with the rugged style of Scrambler 400 X, a choice of tough panniers or rigid and semi-rigid top boxes, each with their own bespoke mounting system, makes packing all the essentials a cinch. Prefer to travel light? Then a simple luggage rack with a nylon tank bag or roll bag could be the perfect option.
Rugged Panniers
Rigid and Semi-Rigid Top Boxes
Luggage Rack
Nylon Tank Bag
Nylon Roll Bag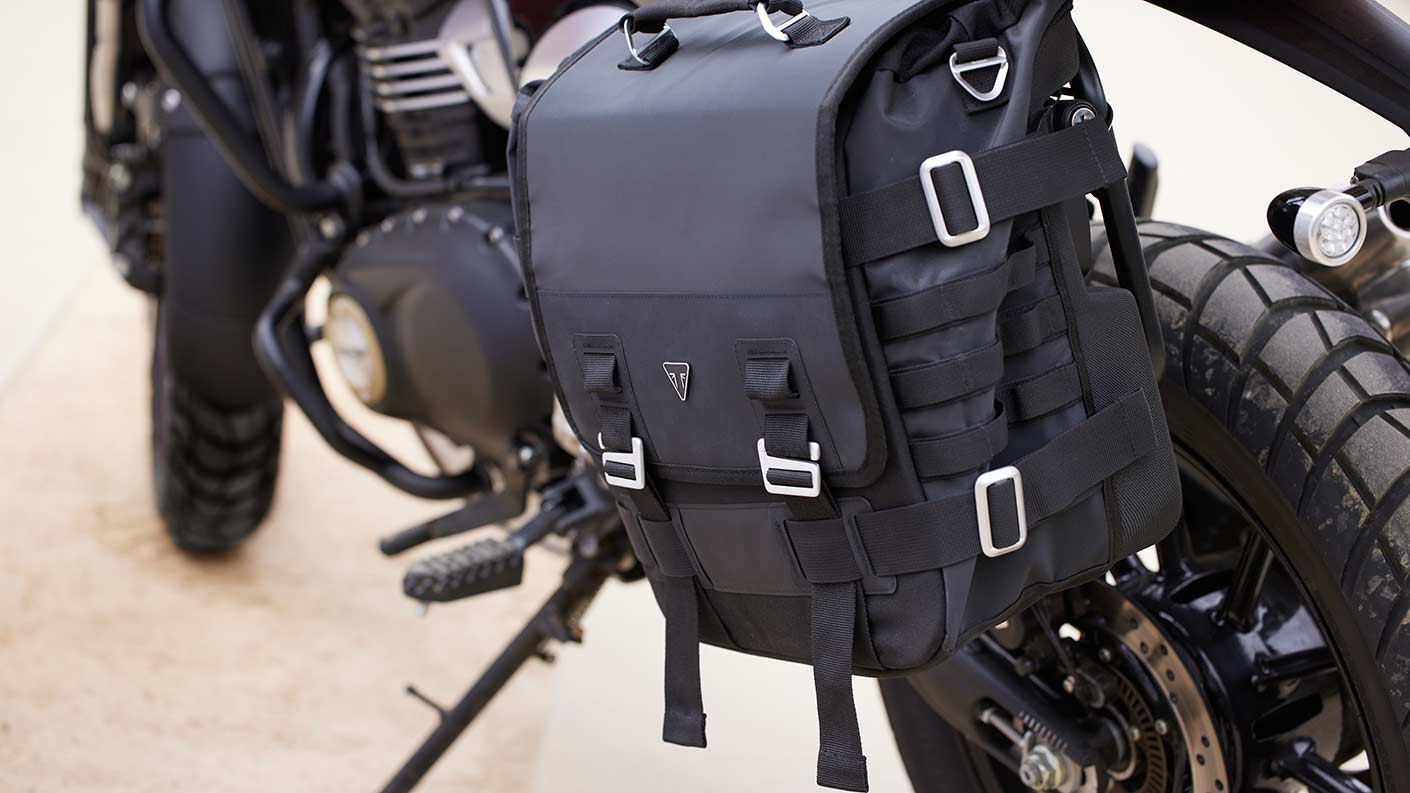 PROTECTION
Already generously protected from the hazards of off-road riding, a range of genuine accessories offer even more coverage to ensure the Scrambler 400 X is up for tackling the toughest adventures.
A strong aluminum sump guard protects against rock strikes, while adding even more all-terrain attitude. Partnered with a striking high-level mudguard, the Scrambler 400 X takes on a classic rally-raid look to complement its off-road capabilities.
A mud splash kit consisting of front and rear mudguard extenders and a rear hugger is a great choice for those regularly venturing off-road. These combine beautifully to protect from water spray and to prolong the life of the rear shock absorber in extreme conditions.
Upper and lower engine bars are an essential add-on for city or country riding, and provide superb protection against drops and spills.
A screen with a dedicated fitting kit is also available to deflect the wind to reduce rider fatigue on longer rides. Easy to fit, and styled to suit, this is a must-have addition for longer distance riders.
Aluminum Sump Guard
Mud Splash Kit
Upper and Lower Engine Bars
Windscreen
Available Accessories
SEMI RIGID TOP BOX: Triumph's 7.9-9.2 gallon capacity, Semi Rigid Top Box, has a 11.02lbs payload and plenty of room to accommodate one full face helmet. Having a reinforced base with twin zips (expandable to the full 9.2 gallon capacity), and a quick release mounting mechanism, the Triumph Semi Rigid Top Box is the perfect commuting and touring companion. Note: top box requires a luggage rack for fitment.
ROLL BAG: Triumph's branded Roll Bag is fully waterproof, having a reinforced base, roll-top seal and welded seams, ensuring your content stays dry. The roll bag features a dual purpose compression strap, carry handles, and has an impressive 7.9 gallon capacity and 6.6lbs payload.
RUGGED PANNIER MOUNT: The Triumph 5.2 gallon capacity single left hand mounted rugged pannier, is made from modern materials with contemporary, rugged styling. Includes a key lockable mounting system for extra security. Black steel mounting rail included. 11lbs payload.
NYLON TANK BAG: Triumph-branded, modern, strap mounted Tank Bag. With an 2.2 gallon capacity, there is also the space to hold a mobile phone up to 6.0x3.2in with touchscreen functionality. 6.6lbs payload.
SILENCER: A stainless steel twin silencer with Scrambler style inspiration has Triumph branding and includes a replacement heatshield.
QUILTED RIDER AND PILLION SEAT: The matching rider and pillion quilted seats give extra elegance thanks to bespoke stitching and pattern detail. A Triumph embroidered logo on the rear of the pillion seat, and contrasting vinyl all adds to the striking design allowing owners to further customize their ride.
MUDGUARD EXTENSION: The Mudguard Extension offers an additional 3.1 inch of protection from water and road debris. The mudguard is injection molded for a sleek design and comes discretely branded with a Triumph wordmark and a black textured finish.
SCREEN FITTING KIT: Fitting kit required to install flyscreen.
COATED SCREEN: The polycarbonate flyscreen is injection molded and hard coated for durability and optical clarity and offers increased wind protection. The screen requires the specific mounting kit (dependent on model)
FRONT PLATE FITTING KIT: Fitting kit required to install front number plate when accessory screen is fitted. (IN market only)
HIGH MUDGUARD: The Scrambler Inspired high level mudguard is injection molded and has a color-coordinated finish to perfectly match your ride. Includes the black, textured, short lower mudguard. Suitable to be installed along with the mudguard extension.
LUGGAGE RACK: The contemporary styled, aluminum luggage rack and grab handles offer the opportunity to carry your essentials, and also give your pillion rider added comfort. Maximum payload of 11lbs.
UPPER ENGINE BARS: The Triumph upper engine bars are made from tubular mild steel and come in a classy black textured finish. They offer additional protection in the event of a fall as well as compliment the styling of the bike. They can be mounted individually or in conjunction with the lower bars.
LOWER ENGINE BARS: The Triumph lower engine bars are constructed using tubular mild steel and come in a classy black textured finish. They offer additional protection in the event of a fall and compliment the overall styling. They can be mounted individually or with the upper bars.
SUMP GUARD: The aluminum Sump Guard offers additional protection to the engine sump. With a brushed silver finish, the lower section is pressed with laser cut sides. Supplied complete with all additional mountings and hardware.
TANK PAD - 36TA0033: A self-adhesive, durable rubber tank pad that protects the tank from zip scuffs and wear. Features Triumph branding and complements the lines of the fuel tank.
TRACKER FITTING KIT: A Thatcham Cat 2:1 upgrade alarm system with a multi-stage sleep mode and independent tilt & shock sensors. Developed with Datatool, the alarm also features a PIN override and is supplied with two Triumph-branded key fobs for ease of use.
BULLET LED INDICATORS, FRONT: The piano black molded body with turned aluminum bezel incorporates 6 High Power LEDs which make signaling highly visible in a compact 1.5in diameter body. Sold as a pair.
BULLET LED INDICATORS, REAR: The piano black molded body with turned aluminum bezel incorporates 6 High Power LEDs which make signaling highly visible in a compact 1.5in diameter body. Sold as a pair.
NEW SCRAMBLER 400 X
The Scrambler 400 X is ready for every road.
Available January 2024